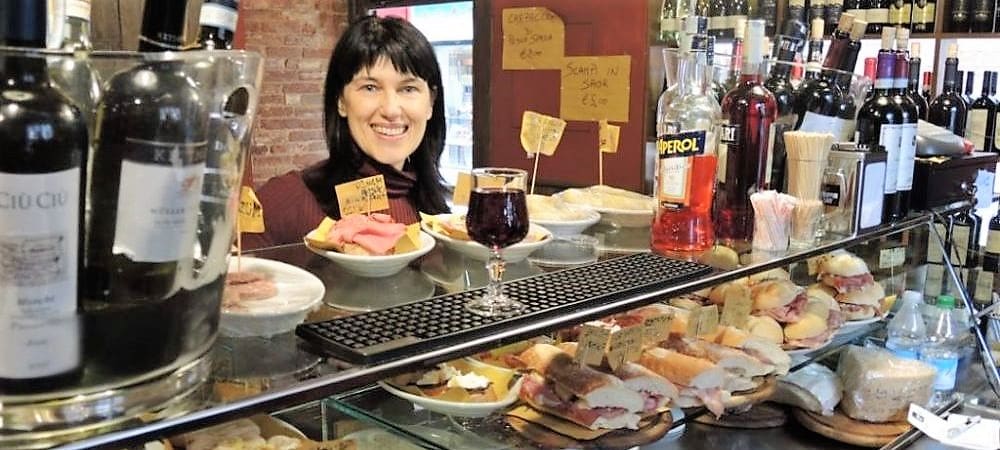 A stroll of Venetian taverns
Venice tapas
In town there are may good restaurants and pizzerias but the most long-standing food institution is certainly the "bacaro". Bacaro means wine bar and is the place where every Venetian stops for a snack, be it 10 am or 10 pm. The snacks served are local specialities that include all type of food: fish, meat, veg, cheese… Snacks in Venice are called "cichetti", wich means finger-food. They are prepared fresh every the day and they fly off. Good food calls good wine and that's why in a bacaro you find a selection of wines from all over Italy. Good wine, of course, calls good chats and many Venetians are customers to the same bacari as they meet friends regularly: if somebody doesn't show up search starts immediately!
Culinary treats
This food tour is together a walking tour and a foodie experience, and can be a good alternative to a regular meal. During 2 hours, we'll stop in a couple of bacari where we'll select a variety of cicheti and a good glass of wine after your taste. To finish the tour in the sweetest way we will take you to the best gelateria in town!
The price varies according to the number of people in the party and includes my guidance, food and drinks.
Practical information
The activity level is light but I cannot guarantee we'll find a sit in every wine-bar as these places are usually small and crowded.
I am quite flexible with the meeting point for this tour. Any central spot will basically work as bacari are scattered all over the city. If you are located out of town we will meet either in Piazzale Roma (Venice car/bus Station) or Santa Lucia train station .
If you wish to arrange this tour in the morning I suggest to start at 11,30 am. If you prefer an evening tour, 5,30 pm or 6 pm are good times.