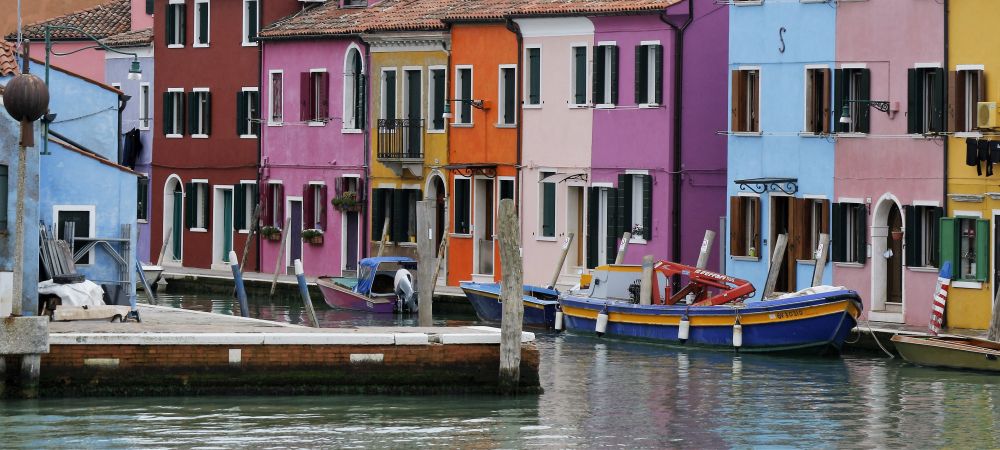 Exclusive half day boat tour to the North of the Lagoon
Shopping, leisure and religious heritage
After all the guided tours and museums, it is high time to relax! Keep your last day in Venice to enjoy a boat ride and rest your feet! This tour is a mix of shopping and leisure: the lulling of the water, the smell of bakeries where the most popular biscotti are prepared everyday, the traditional or modern lace and the expensive glass. . . .But our first stop will bring you back to Venice origins!
Torcello, Burano and Murano islands
The abandoned island of Torcello is located 30 minutes North of Venice, by private boat. Here we are going to visit the oldest building in the lagoon, the cathedral of Santa Maria Assunta and enjoy the view from its bell tower. Burano instead, is a lovely fishing village famous for lace, colorful houses and delicious biscuits. A nice walk across the island will easily take us to a next door place called Mazzorbo, with its vegetable gardens and a recently restored vineyard. Here we catch our boat and proceed to Murano. On our way to the studio where we'll admire the art of glassblowing, we'll pass by an elegant Romanesque church and the only glass Museum in Italy.
Practical information
This tour is perfect for everybody.
Difficulty level: easy
The meeting point can be your location (if in the city centre), Piazzale Roma (car/bus station) or Santa Lucia train station if you come from the mainland. We can meet at Marittima if you are on a cruise ship and from here we'll move to Piazzale Roma to catch our boat (cost of the shuttle 1,50 Eur).
The cost of the tour includes guide and private boat for 5 hours, the visit to the lace place and the glass factory, and a tasting of the delicious cookies on Burano.
The ticket to the church on Torcello (6 Eur, opening times: 10,30-17,30) can be bought on spot, as well as the tickets to the tower .
Tour duration: 5 hours. We can stretch the time of the tour to enjoy lunch in a good restaurant famous for fresh fish and vegetables.