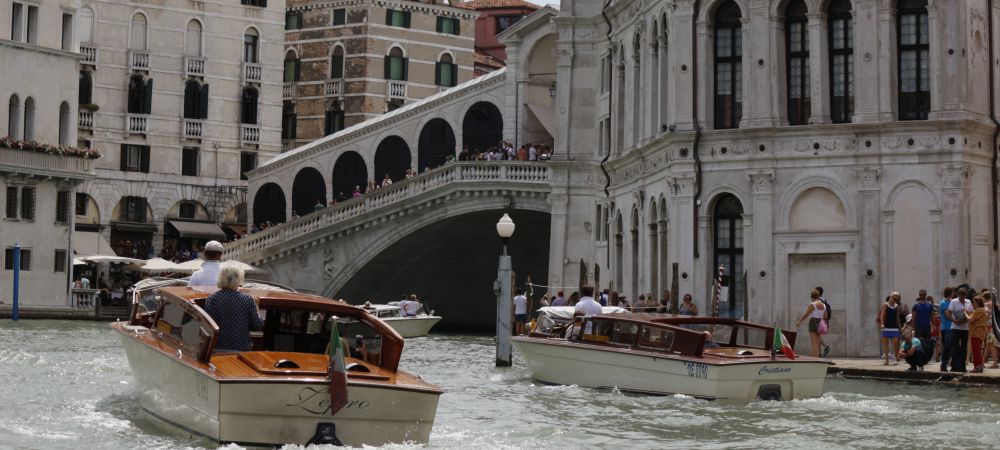 Transfer to your location
Transfer service overview
A guided transfer service is the perfect way to reach your destination upon your arrival by plane, train or ship. After a long trip, one is usually too tired to figure out the best way to be transfered, so it is much rewarding to find a welcoming person who takes care of you and your luggage. This service is also the occasion to ask for useful infos during your stay.
At Marco Polo airport
If you arrive by plane at Marco Polo Airport, you'll meet your assistant as soon as you leave Customs. Past the sliding doors, turn right: it will take a few minutes to spot out your assistant, as it can be really crowded. He/she will hold a sign with your name. The duration of a transfer from Marco Polo airport to Venice center lasts 40 minutes approx. The assistant will be at the airport at your flight scheduled time: It  might take from 30 minutes to 1 hour before you leave Customs with your bags. In case of a delay due to flight arrival or lost bags we kindly ask you to contact us (we will supply contact numbers).
The transfer is usually operated by land and water. According to your luggage we suggest a max number 8 people with 1 suitcase each per water taxi.
At the Cruise terminal
In case you arrive by ship at the Port (Marittima), the meeting point will be right at your ship terminal. You'll locate your driver assistant right outside Customs. If you are leaving, the driver will take you directly to the trainstation or the Airport. If you are going to Venice, he will drive you to Piazzale Roma (10 minutes) to catch your private water taxi to the hotel.
If your ship is docked at San Basilio Port, the driver assistant will wait for you right outside Customs and drive you to the Airport or help you getting your private water taxi to the hotel.
Venice Santa Lucia train station
If you arrive by train at Venice Santa Lucia train station, you will find your assistant at the head of your train platform. Venice city centre is the last stop of your train: you will reach it at the end of a long bridge across the lagoon. Pay attention not to get off at "Venice Mestre" stop.
The price for the guided transfer service
The price of the guided transfer service varies according to the meeting place, your destination and the number of people. It includes private boat, private van when necessary, bags transportation and assistance.
The price of the transfer covers up to 30 minutes delay on scheduled time. After this time there is a cost rise of 30 euros per every extra hour or fraction of hour, to be paid on spot. For a pick up later than 8 pm or earlier than 7 am a supplement of 30% will be applied.
Please, contact for further infos and a quotation.
Your destination in Venice
Our guided transfer will take you right to your location. Please, be aware that not all places have a water access or a private pier: in this case, the water taxi will get as close as possible. Sometimes, due to the tide, it is not possible to cruise some canals or pass under low bridges. In this case, we will get as close as possible to your location.
People with limited mobility
We can arrange a transfer for people with limited mobility by reserving a wheelchair friendly van and water taxi. Since there is a limited number of these suppliers in town, we kindly ask you to book the service well in advance.
Transfer service to Venice