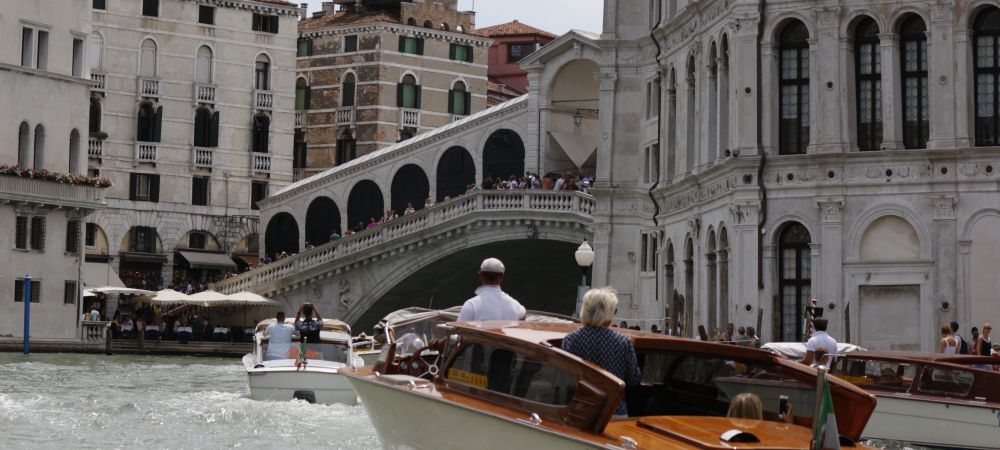 Explore Venice from the water
Relax by boat
This tour is the perfect solution if you have just arrived and feel tired but want to take advantage of your time in Venice, because in just one hour you can get an intense feeling of the city. It can be a first step before focusing on museums and exhibitions or the one tour you take if you have limited time. I suggest to take it before supper, because the light is good for pictures and we can drop you off at your restaurant.
Grand Canal
Let's get on board our private water taxi to cruise the Grand Canal and small rios. During this tour you will appreciate the beauty of Venice from the water and you will see places you will hardly reach on foot and on own. You will admire the palaces, the gardens and the bridges built long ago on a muddy ground but still here to tell about a glorious past. We'll wind into narrow canals whose banks are crowded with people doing their shopping or enjoying a glass of wine outside one of the many taverns.
Practical information
This tour is perfect for everybody.
Activity level: light
The cost of the tour includes guide and private boat, part closed and part open, where you can sit or stand for a better view. For sightseeing, boats fit 8 people. If your group is larger we need some extra boats.
Meeting options: at the entrance to the Royal Gardens, right off St Mark's square. The train, the bus station or your hotel can also be our meeting point.