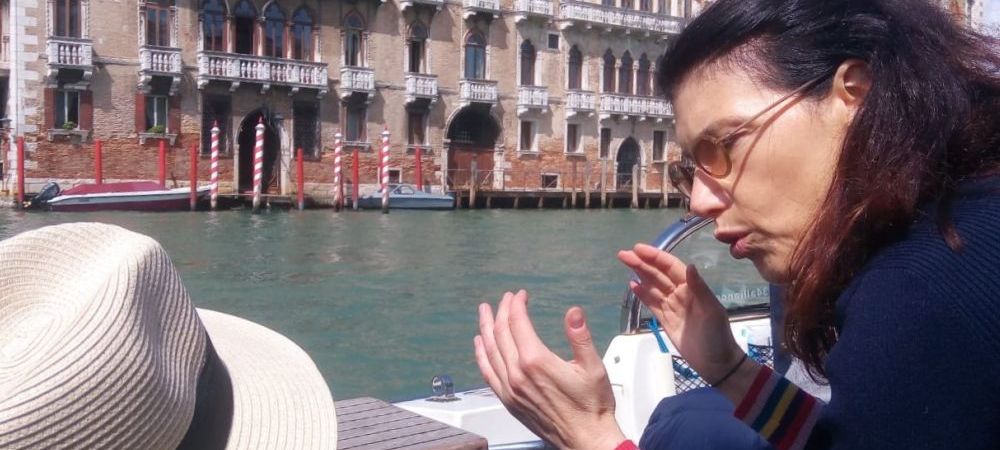 St George island and the Jewish Ghetto
Unique sightseeing experience with stops at St George island and the Jewish Ghetto.
The Grand Canal
Enjoy Venice from another perspective!
Since it's not possible to walk along the Grand Canal, the only way to admire the palaces lined up along its banks is to get a boat and spend a couple of hours cruising.
This tour is a unique opportunity to enjoy a wonderful view over the city. We'll easily wind in and out the small charming rios, wave at people passing by and peep inside courtyards. Along rio de San Trovaso we stop in front of one of the last gondola yards.
St George Island
To reach San George island we have to cross St Mark's Basin, considered from the geographical point of view the centre of the Lagoon. We stop here to reach the top of the tower and enjoy a 360° view. The church is also worthwile a visit: projected by Andrea Palladio, it contains a beautiful Last Supper by Tintoretto.
Jewish Ghetto
Some more cruising will take us to the lively Cannaregio district and its Jewish area. We'll take a stroll to learn more about the first ghetto in the world, founded in 1516 and stop to buy a Jewish specialty from an old bakery. We can arrange the itinerary to finish our tour here and give you the opportunity to join a visit to the Synagogues, arranged by the Jewish Museum.
Practical information
Due to time, traffic rules or the tide, the above itinerary might follow another order but this won't affect our tour. From November to March the tower on St George island closes at 6 pm: in this season we can start the tour latest at 5 pm. From April till the end of October the tower is open till 7 pm.
The tour is perfect for everybody.
Activity level: light
The cost of the tour includes guide and private boat, part closed and part open, where you can sit or stand for a better view. For touring activities boats fit 8 people. If your group is larger we need some extra boats. The cost to St George tower is 6 Eur for adults and 4 Eur for students
For info about the Jewish ghetto, please check www.museoebraico.it
Meeting options: at the entrance to the Royal Gardens, right off St Mark's square. The train and the  bus station or your hotel can also be our meeting point.