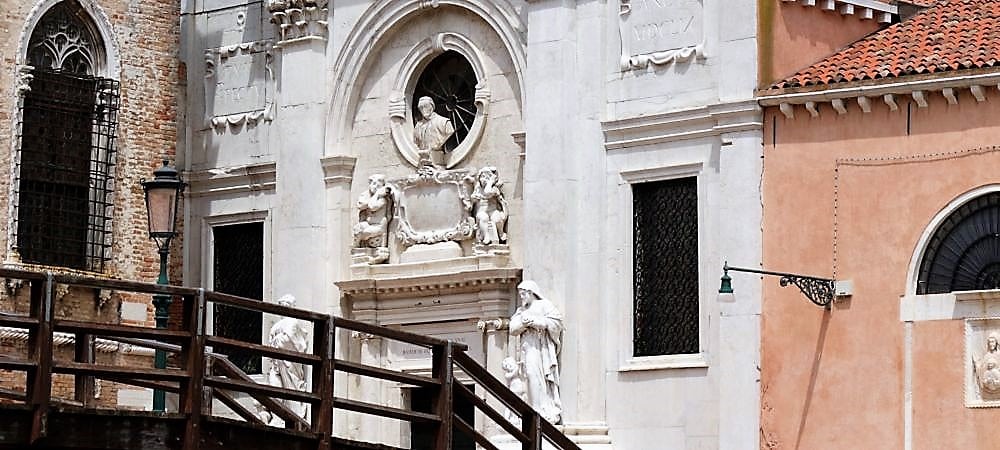 Exploring the religious heritage
Venice hidden gems
The tour focuses on the visit of some churches located between St Mark's and Castello districts (called sestieri in Venetian dialect). It is less-known sanctuaries, compared to the popular Frari or St Mark's Basilica, but they represent real art caskets and are an example of the city cultural vitality. As a matter of fact, a large part of these churches were built, restored or decorated thanks to private funding and donations. This tour is an alternative to classic itineraries and a way to see more intimate and less touristy places.
Great masters: Titian, Bellini and Tiepolo
The works of art treasured in these churches are by world famous artists, to be admired in museums worldwide, like Titian, Bellini and Tiepolo. But on this tour, we have the opportunity to see them in their original spot, commissioned from noble families, middle-class citizens and foresti, i. e. foreigners who traded and lived more or less permanently in Venice.
Practical information
During the tour we'll see the following churches: St Apostles, the Gesuits, St Maria Formosa (3 Eur, closed on Sun), St Maria dei Miracoli (3 Eur, closed on Sun), St John Crisostomo, La Fava, St Julian. Since some of these churches are still active, they could be closed for services even during visiting hours.
Time: the tour is arranged everyday with pickup at 10 am or 3 pm.
Meeting point: Campo San Bortolomio ( St Bortolomio square)
Tour duration: 3 hours. The visit to the churches will be restricted to a selections of artworks. Some churches will be visited just from outside.
Level of difficulty: low. The tour develops in a relatively small part of the city centre. We suggest to wear comfortable shoes and a hat in warm days.
Kids friendly: due to its cultural nature we don't suggest this tour to kids and teenagers.
The small churches of Venice